Immigration Law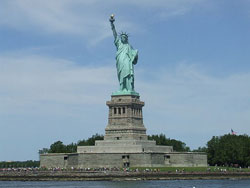 Statue of Liberty
(CC image courtesy of
Laslovarga on Wikimedia Commons)
Let America be America again. Let it be the dream it used to be. Let it be the pioneer on the plain seeking a home where he himself is free… — Langston Hughes
Over the past 400 years, immigrants have had different reasons to come to America. Some to escape war, others for the freedom to practice the religion of their choice. Still others came for the opportunity to own land or simply for a chance to work and escape poverty. We are all except for Native Americans or Chicanos primarily immigrants or descendant's of immigrants. We have the same dream whether we disembarked in Ellis Island like Marcelina my Puerto Rican grandmother, or rode over on the Mayflower like my friend Leslie's grandparents, or walked over the border like my friend Maria's grandfather. In our hearts, we all have the same dream of a better life for our children and ourselves.
However, effectively navigating the United States' complex and changing immigration system is not easy and often requires expert advice and support. Our lawyers are here to assist you in many different kinds of applications and individual situations, which call for legal advice and assist you in attempting to achieve, maintain and improve your legal status in the United States.
Our firm handles many matters related to immigration law including:
Visa Petitions
Permanent Residency Petitions (Family and Business)
Consular Assistance
Citizenship (Naturalization) Application
DREAM deferred action
Deportation proceedings
DREAM Deferred Action
Allow eligible immigrants up to age 30 to apply for employment authorization and protection from deportation for a two-year period if they meet the program's requirements.
Green Card Through Family
Many people get Green Cards (become permanent residents) through family members. You may be eligible to get a Green Card as:
An immediate relative of a U.S. citizen, this includes spouses, unmarried children under the age of 21, and parents of U.S. citizen petitioners 21 or older.
A family member of a U.S. citizen fitting into a preference category, this includes unmarried sons or daughters over the age of 21, married children of any age, and brothers and sisters of U.S. citizen petitioners 21 or older.
A family member of a green card holder, this includes spouses and unmarried children of the sponsoring green card holder.
A member of a special category, this can include battered spouse or child (VAWA), a K nonimmigrant, a person born to a foreign diplomat in the United States, a V nonimmigrant or a widow(er) of a U.S. Citizen.
Green Card Through a Job
The main ways to immigrate based on a job offer or employment are listed below:
Green Card Through a Job Offer: You may be eligible to become a permanent resident based on an offer of permanent employment in the United States. Most categories require an employer to get a labor certification and then file a Form I-140, Immigrant Petition for Alien Worker, for you.
Green Card Through Investment: Green cards may be available to investors/entrepreneurs who are making an investment in an enterprise that creates new U.S. jobs.
Green Card Through Self-Petition: Some immigrant categories allow you to file for yourself ("self-petition"). This option is available for either "Aliens of Extraordinary Ability" or certain individuals granted a National Interest Waiver.
Green Card Through Special Categories of Jobs: There are a number of specialized jobs that may allow you to get a green card based on a past or current job.
If you need more information or would like to set up an appointment contact us.
LINKS:
How to Fill out Form I-821D (DACA)
U.S. Department of Labor – Work Authorization for Non-U.S. Citizens: General Information on Immigration, Including I-9 Forms
U.S. Citizenship and Immigration Services
U.S. Visas – Business Visa Center
U.S. Immigration and Customs Enforcement
California Law Review – Immigration, Asylum, and Citizenship: A More Holistic Approach by Julian Lim
National Center for Transgender Equality – Our Moment for Reform: Immigration and Transgender People